Targeting weekly waiver picks is a completely subjective business, but this column hopes to point out some obvious and not-so-obvious selections to help your team from week to week while you strive to collect fantasy wins, reach your league playoffs, and win the elusive title that your friends say is out of your grasp. While I'm a big proponent of making trades to bolster your roster, the waiver wire can be an almost limitless resource when it comes to discovering fantasy value in strange places. Each week, I'll target both offensive and defensive players — sometimes breakout stars that eluded your team's draft — as well as players who can help your squad that may still be lurking in deeper leagues.
Off the Top -
Includes my premier recommendations. These are sometimes players available only in more shallow leagues, and occasionally guys who are more readily but are thrust into the fantasy spotlight because of opportunity or exceptional production.
Digging Deeper -
Covers the next tier of quality waiver wire specimens, usually players available in a majority of online leagues. There are a lot of gems in this range who can be plucked rather easily.
Scouring the Barrel -
Chronicles the deepest of fantasy adds — and sometimes highlights players being tacked onto fantasy squads who I don't have much confidence in. Make sure you read the fine print.
Each week, I'll also provide a brief update on the 30-40 players I covered the previous week. It's the most accurate, comprehensive one-stop waiver-wire column available on the Internet, and it's only available here at fftoday.com.
Feedback is always welcome
, appreciated and encouraged. I'll get to as many e-mails as I can.
---
Note:
Each player's next four matchups are listed in parentheses ()
For my initial column, I'll focus on guys that your league owners may have missed on draft day.
Quarterbacks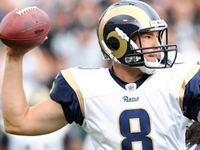 The upcoming schedule looks pretty for Bradford.
Off The Top
Sam Bradford, STL
(@DET, SD, @TB, CAR) – The rookie turned in another solid game on Sunday, leading the Rams to their second straight win. He's got come favorable matchups on the schedule and probably has more value than Brett Favre, Jay Cutler and Donovan McNabb at this point.
Digging Deeper
Matthew Stafford, DET
(STL, @NYG, BYE, WAS) – Stafford will test the shoulder this week, but given the success of the Lions' offense without him, he's worth adding in all formats if he's healthy.
Kevin Kolb, PHI
(@SF, ATL, @TEN, BYE) – The Vick injury propels Kolb into relevance again, but expectations have to be lower given what we've seen and so far. More should be known about the Vick injury in the coming days and weeks; Kolb may not have much value in a week or two, when Vick is expected to return.
Scouring The Barrel
Jake Delhomme, CLE
(ATL, @PIT, @NO, BYE) – The Browns may have won a game with Seneca Wallace, but Delhomme will resume the reins once his ankle his healed. Does that mean he should be on your fantasy team? Probably not, but it's a situation worth watching.
Updates
Kyle Orton, DEN
(@BAL, NYJ, OAK, @SF) – Orton continued the Denver air show with another big game. He's a solid QB1 in all formats.
Chad Henne, MIA
(BYE, @GB, PIT, @CIN) – If you forgive the three INTS, Henne had a nice game against the Pats, completing 29 of 39 passes for 302 yards and two TDs. He's an excellent fantasy backup with value as a starter given the right matchup.
Matt Cassel, KC
(@IND, @HOU, JAC, BUF) – Cassel will have four straight favorable matchups coming off his bye week. I'm into it.
Ryan Fitzpatrick, BUF
(JAC, BYE, @BAL, @KC) – What a bizarre situation in Buffalo. In his second start (a blowout loss to the Jets), Fitzpatrick completed just 12 of 27 passes for only 128 yards, but managed to toss a couple TD passes rushed for 74 yards, making him one of the better fantasy plays of the week. He's actually a decent option against the Jags this week.