Player:
Michael Vick
and
LeSean McCoy
Injury:
Broken Ribs
Healing Time:
2-4 weeks, 1-2 weels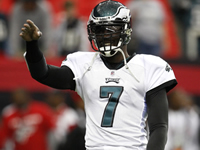 The Vick sandwich should cause him to miss two weeks .
Impact on the Field:
In what was one of the worst hits I have seen in a while, Michael Vick was sandwiched between two defenders on his way to the goal line. He was hit at exactly the same time causing compression of ribs and sternum. The force was so great that he broke multiple ribs/sprained cartilage. "There is some cartilage damage up in there and a small fracture up in there, so maybe a week, maybe 2 weeks, Vick said earlier this week. He was in a lot of pain and I doubt that you see him before two weeks are missed. It was that bad of a hit and pain is a big concern for someone who has to torque his body to throw. McCoy also experienced a broken rib and was able to play through it. His status for this week is in jeopardy - again because of pain. Running backs take more hits but are able to brace themselves better with padding and avoiding big hits more than quarterbacks. Twisting motions are miserable for people with broken ribs and pain medicine can only do so much. In my opinion, Vick will miss more time than McCoy.